Blue-Haired Guy is a background character in Atomic Puppet (Series).
Appearance and Description
He appear as muscular, has fair skin and has a dyed blue hair shaped like a mohawk with sides cut off, he wears a orange short sleeved shirt with blue and white on the sleeves as well as the number 32, writen in blue and white in the middle and wears a navy jeans with blue and white sneakers.
He usually appears as a background character along with the other characters, he first spoke in Sold Out, only by shouting.
Episodes
Gallery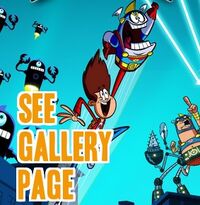 See Gallery page for "Blue-Haired Guy" See Here
Ad blocker interference detected!
Wikia is a free-to-use site that makes money from advertising. We have a modified experience for viewers using ad blockers

Wikia is not accessible if you've made further modifications. Remove the custom ad blocker rule(s) and the page will load as expected.