Chief Kevlar is a character of Atomic Puppet (Series).
Appearance
His physical shape is almost similar to Captain Atomic type, He has dark brown skin, with short black hair, has a brown scar above of his right eye, and wears a navy blue uniform with a platinum badge and a bulletproof vest and black boots.
Personality
He as the top chief in the police force, he mostly known for being loud and tough, in a sense of him having a very serious and no nonsense personality, he tends to yell in order frigthen anyone a bit, he seems to have a bit of dislike towards Joey and AP, as he assumed that they're in his way from completing the job.[1]
Episodes
Gallery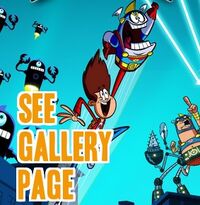 See Gallery page for "Chief Kevlar" See Here
References
Ad blocker interference detected!
Wikia is a free-to-use site that makes money from advertising. We have a modified experience for viewers using ad blockers

Wikia is not accessible if you've made further modifications. Remove the custom ad blocker rule(s) and the page will load as expected.