"We Still Working on it"
This article is still undergoing some maintenance and improvements, in other cases, it remains incomplete or semi-complete until a user completes it.

Dirtbag is a villain of Atomic Puppet (Series), as he first appeared in "Down and Out Dyna-Moe" and he's Mudman's Cousin, as mentioned in Don't Track the Mudman.
Appearance
He appears as a sack-like being who is olive green with patches that are medium olive green, mostly dusty, wears a cowboy hat, has yellow eyes, two front beige teeth, and brown cowboy boots and brown belt with a gold buckle around his waist.
History
TBA
Episodes
Relationships
TBA
He is Mudman's cousin, who mentioned him in "Don't Track the Mudman", but since then, both were mentioned in two different episodes and either one of them did not appear in episodes that mentioned them, although their relationship is unknown.
Gallery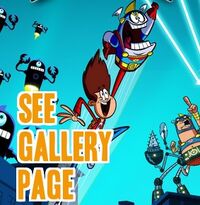 See Gallery page for "Dirtbag" See Here
Trivia
Ad blocker interference detected!
Wikia is a free-to-use site that makes money from advertising. We have a modified experience for viewers using ad blockers

Wikia is not accessible if you've made further modifications. Remove the custom ad blocker rule(s) and the page will load as expected.