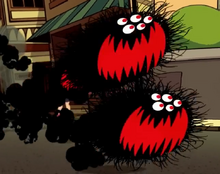 The monsters appear in Sick Day and attack the city. After saving the city from them to show up Atomic Puppet, Mookie accidentally reveals that he created them. 
Description
Behavior
Rushes around the city and chases people 
Flies through things and covers them with black dust 
Attributes
Can't be hurt by physical strength
Appear to be simply floating globs of dust
Can be defeated by sucking them up or blowing them away 
Ad blocker interference detected!
Wikia is a free-to-use site that makes money from advertising. We have a modified experience for viewers using ad blockers

Wikia is not accessible if you've made further modifications. Remove the custom ad blocker rule(s) and the page will load as expected.