Inkwood is a minor villain and character of Atomic Puppet (Series), as he appeared in "Quick Draw".
Appearance
When he was young, he was very skinny, and had a normal hairstyle and wears a light gray hat, a medium brown sweater, pants and has a puce scarf.
As he got older, he has the same physique as when he was young, he now had a long gray hair with a beard, a light black poncho and a dark gray pants with black shoes.
History
In the early days of Captain Atomic fame, he was assigned to creating a comic book based on the hero, however after several attempts as he showed to Captain Atomic, who weren't satisfied that the way it was drawn and complained that Inkwood did not add dimples, this had caused him to tirelessly work on reworking the concept and for no matter of how it looked, ended up being rejected afterward, til the point, Inkwood retired from doing any more comics ever since.
Gallery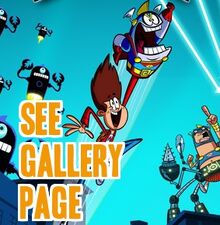 See Gallery Page for "Inkwood", See Here.
Ad blocker interference detected!
Wikia is a free-to-use site that makes money from advertising. We have a modified experience for viewers using ad blockers

Wikia is not accessible if you've made further modifications. Remove the custom ad blocker rule(s) and the page will load as expected.