Joey Felt's House is the home that the Felt Family as well as Atomic Puppet lives in.
Description
From the front of the house looks much like how all of the other houses shape, this one has beige colored wall panel on top front of the house, while the bottom has light olive green panel with reddish-brown bricks on the side, a brown door, has 4 steps with a garage, while the roof in the middle, which is linked to Joey's room, has a hole on it which in every episode whenever Joey and AP powers, they usually strike up the roof, which i most episodes, has it sealed up with wood.
Interior
As inside the front of the house, there's only 3 ways to get across certain areas of the house, the left, which is the stairs that goes up to either Joey's, Abby's or The Parent's Rooms, a hall in the middle goes towards the backyard.
First Floor

While the right is the family's living room hence has access to the Dining room as well as to the Kitchen, Which can accessed through the living room or the other side.

Abby's Room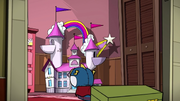 While Abby's Room, where she sleeps at, the walls are pink and has random posters it also seperated with the chair rail with slats of light brown wood, the floor has pink carpet, the funiture is mainly pink, she also has medium big speakers.
Joey's Room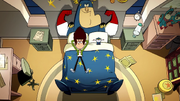 Joey's Bedroom is the room where Joey and AP resides, most of it in that room has mostly Captain Atomic Merchadise, which consists a bed, posters, arcade box, and action figures, while the rest has mostly basic stuff like a desk, two dresser, and a lamp, his room has two windows, a brown floor, with a circular beige carpet
Gallery
Trivia
Joey's house is next door to Warren's house.
In Bucket List, the are that Joey and the family lives at were under construction when Joey was 5-6.
In every episode, most of the time when Joey and AP powers up, Joey's Bedroom roof leaves a hole than in certain episodes it looks repaired by later broken through.