Manatee Man is a character and yet a former villain inAtomic Puppet (Series).
Appearance
He appear as a humanoid manatee who is dark grey, appears obese, has a long fat tail and only wears a dark green jumpsuit. However he is well-known for bulking up in muscular style and turning red if anyone tries to anger him at the highest priority, if it means by teasing or taunting him.
Description
While AP and Joey were researching a wrestler who willing to fight during the charity wresting, while after searching a bunch of fighters, AP types in for Manatee Man, who is a retired wrestler who resides in the Mega City's waterfront pier, where AP and Joey are trying to get him to wrestle with them, after several attempts due to him refusing to participate, until AP got a hold on one of his pet hermit crab, and teased with it, which it triggered him in rage, prompted to go after AP and Joey.
Gallery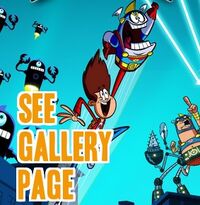 See Gallery page for "Mantee Man" See Here
Trivia
He is similar to Incredible Hulk as when he gets angry, he changes colors as well as his body enlarges as it becomes more muscular.
Ad blocker interference detected!
Wikia is a free-to-use site that makes money from advertising. We have a modified experience for viewers using ad blockers

Wikia is not accessible if you've made further modifications. Remove the custom ad blocker rule(s) and the page will load as expected.