"Mayor" is a character in Atomic Puppet (Series). He first appeared in Bad Lair Day.
Appearance
Mayor has medium brown skin, a mustache, has dark brown hair, an is slender-built.
He wears a dark maroon long sleeve shirt, with a white shirt underneath and has a dark purple tie with light purple stripes, and a dark brown dress pants and shoes
He usually wears a gold medal on around his neck.
Personality
THE MAYOR LOVES THAT THE CITIZENS OF MEGA CITY FEEL AS SAFE AND SECURE AS THEY DO. WHAT HE DOESN'T LOVE IS THE COST THAT COMES WITH ACHIEVING THAT. AFTER ALL, HE'S THE ONE ON THE HOOK FOR THE BILLS RACKED UP BY ALL THE SMASHING AND CRASHING IN THE STRUGGLE BETWEEN SUPER-HEROES AND SUPER-VILLAINS, BUT HE NEVER GETS ANY CREDIT! SURE THE SUPER-HEROES DO THE FIGHTING, BUT WHAT ABOUT THE GUY WHO FIGURES OUT HOW TO PAY FOR IT? THE MAYOR IS CONFIDENT THERE'S A BETTER WAY TO PROTECT THE CITY, WHETHER IT'S THE POLICE STEPPING UP THEIR GAME OR HIM FINDING A NEW MORE DELICATE HERO, HE'S ONLY GOING TO TOLERATE ATOMIC PUPPET UNTIL HE CAN FIND A WAY TO REPLACE THEM.[1]
Episodes
Gallery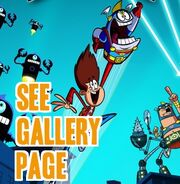 See Gallery page for "Mayor" See Here.
Reference
Ad blocker interference detected!
Wikia is a free-to-use site that makes money from advertising. We have a modified experience for viewers using ad blockers

Wikia is not accessible if you've made further modifications. Remove the custom ad blocker rule(s) and the page will load as expected.