Mega City Convention Center is one of the locations in Mega City.
Appearance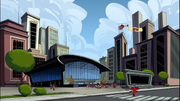 The building has a semi-round structure, with a large glass windows in the front, aside of it has pole lamps and the inside is mostly wide and has a gray and beige floorings on either part and the ceiling has metal structures, seen up top.
Description
As this is one of Mega City's recreation centers for mostly for entertainments and events that happends here are mostly for Hero-Con (Ultimate Collection)[1], where people dress up or cosplay as characters from tv shows and flims, there also events involving Captain Atomic (Hero Hall of Fame) [2], which it is a tribute the city's number one hero, and events for pet fashion shows (AP vs. Disastro)[3], where people bring in their pets (mostly cats) to show off by designing them.
Gallery
To See a Gallery page for Mega City Convention Center, see Here.
Trivia
TBA
References
Ad blocker interference detected!
Wikia is a free-to-use site that makes money from advertising. We have a modified experience for viewers using ad blockers

Wikia is not accessible if you've made further modifications. Remove the custom ad blocker rule(s) and the page will load as expected.