Mega City Stadium is a large football field where most of the Mega City residents goes there for sports entertainment.
Appearance
It a a large, oval shaped field that contains grass and white lining which is used for soccer, football etc, it has two entrance and exits.
It also has a locker room, as in Bend It Like Joey.
Description
This often used for most sport entertainment as most would usually crowd up the stadium for any particular event.
The notable event was when Tentaclytes and Queen Tentaclees would often visit there ever year or so to feed on humanity and in order for her and her colony to pursue that is that they had play the game of soccer to play against the Justice Alliance, who been well known for being most champions and even at that time when AP was originally Captain Atomic, but since after his unlikely disappearance, Cavalier was chosen as the leader. As when the Tentaclytes team loses, they are forced to leave earth.
Gallery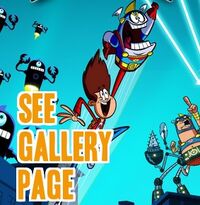 See Gallery page for "Mega City Stadium" See Here
Ad blocker interference detected!
Wikia is a free-to-use site that makes money from advertising. We have a modified experience for viewers using ad blockers

Wikia is not accessible if you've made further modifications. Remove the custom ad blocker rule(s) and the page will load as expected.